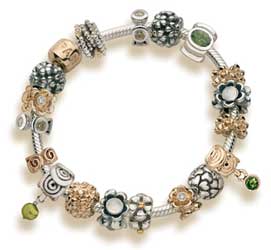 Welcome to MyCharmBracelets.com.au
(formerly known as PandoraCharmBracelets.com.au)
Pandora jewellery consists of beaded jewellery which you can combine to emphasize your personal style and taste.
You'll have plenty of chances to discover Pandora's world on this website. Start with a base piece of jewellery, and then choose which beads and charms you want to add for decoration. You can start with as few or as many beads as you want. The beads and charms are handmade pieces of jewellery in silver or 14k gold with romantic, fun, fascinating, and unforgettable details.
Unlike other jewellery ranges, the beauty of the Pandora collection is that you can add to your collection over time. You can start with two or three beads, then buy more in the future to add to your bracelet or necklace over time. And, you can suggest beads to friends and family that they can buy for you as gifts too.
Your Pandora beaded jewellery tells your own personal story.
We hope you will be inspired by the endless choices which Pandora opens up.
To start your collection:
1. Click on the bracelet category above. Select the style and length that you want.
2. Click on the different bead categories above. Select the beads that you wish to add.
3. Click on the clips / fixed beads categories above. Select 2 of these to keep your beads spaced around the bracelet.
4. Click on the spacer category above. Spacers separate your beads and add definition to your bracelet.
5. Buy with confidence using our Secure Checkout and receive free delivery Australia wide.
Free Delivery anywhere in Australia.
We Deliver to Australian addresses only.